Jesi…
Jesi is full of artistic and historic interest, and offers all the amenities, entertainment and quality of life you would expect of a friendly, accessible town well-placed between the seaside and the mountains. Its location makes it the ideal holiday destination, and the perfect base for excursions to the famous Castles of Jesi, or to discover The Marches and Central Italy.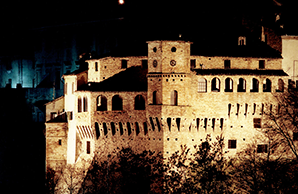 Jesi is the birthplace of Emperor Frederick II of Hohenstaufen and the musician Giovanni Battista Pergolesi.
It is a quiet, generous and welcoming town. Visitors will soon discover its many architectural and artistic treasures, as well as the outstanding local food and wine.
Landmarks include the Palazzo della Signoria, the home of the municipal library, the Pinacoteca (art gallery) where you can admire several works by Lorenzo Lotto; the Duomo (cathedral) and the Pergolesi Theatre. Don't miss an opportunity to try the famous white wine, Verdicchio dei Castelli di Jesi, or vino di visciola (sour cherry wine).
Each year the Palio of St. Florian is held in May, followed by the Feast of St. Septimus in September.
…and further afield
The province of Ancona offers a wide range of natural attractions and activities, catering for all tastes. Located between the Apennine ridge and the Adriatic sea, tourists are attracted by both the mountain and coastal areas.
To the north lie the sandy beaches of Senigallia, well known for its vibrant club scene and night life. Highlights include the Caterraduno and the Summer Jamboree.
Further south we find Mount Conero surrounded by the evocative rocky and gravelled beaches at Portonovo, Sirolo and Numana. These small resorts are famous not only for the beautiful coastline and clear waters, but also the food (Portonovo in particular), and the evening markets held in Sirolo during the summer.
Moving inland we come to the Gola della Rossa Nature Reserve and the famous Frasassi caves where visitors can admire stalactites and stalagmites, natural sculptures formed from layers of limestone deposited over the course of 190 million years.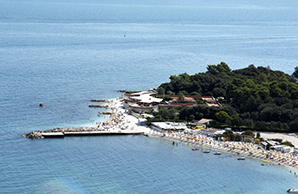 Palio of St. Florian
First weekend after 4 May.
Amid flag-waving processions, archery tournaments and taverns, the historic centre is transformed by the evocative medieval atmosphere.
Feast of St. Septimus
22-25 September
The roads and squares of the town centre are taken over by market stalls, as more than 600 exhibitors display all manner of wares.
Opera season
October-December
Held every year since 1968, this substantial cultural offering is eagerly awaited by opera lovers from the region of Marche and beyond.
Theatre season
October-April
Organised in collaboration with AMAT (Marches Theatrical Association), each year there is a rich and varied programme of events.
Concert season
December-May
Organised in collaboration with FORM, the Philharmonic Orchestra of the Marches, each year the season incorporates a high quality programme featuring internationally-famous musicians.